Just life....
OK, not sure I have that much to report! Last weekend was the dreaded "meeting" which turned out to be great. My boss failed to tell me that there are only 4 other CSO's so the meeting was small and intimate and very very informative. I learned a lot and I'm so glad I went.
The whole family went down and we all stayed at the Novatel which was lovely. Originally we were going to go down on Saturday, but the girls had a sleepover at their cousins Friday night (8 kids….shiver….) and then we went for lunch the next day, which of course went to about 4pm so we decided not to leave until Sunday morning.
We went directly to Brian's brothers house and saw Garry and Joanne's just beautiful, gorgeous engaging little 1 year old. Unfortunately with the house building and my teaching and just life in general, we have hardly seen her, but hopefully that will change. Anyway, I took a million pics and did a layout on little Kira (Sorry, blogger is playing funny buggers, will post tomorrow, when lurgies are sorted!)http://img.photobucket.com/albums/v718/LeeQueBee/Kira.jpg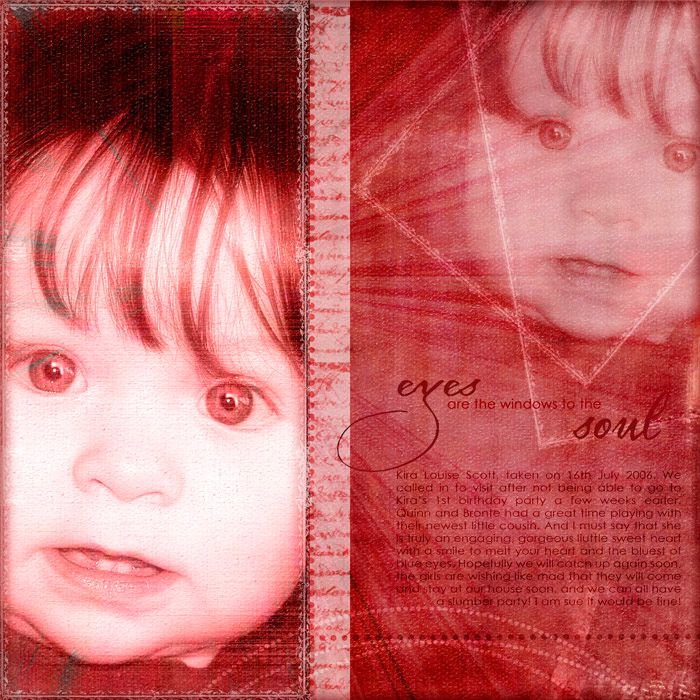 We then headed off to the Novatel, expecting to have to pay to upgrade our room, as the bank was paying, but the room had two double beds, so there was no need. We had a lovely meal at the restaurant and a few drinks in the bar and then headed off for an early night. But two of the girls that were to be at the meeting the next morning buzzed me and we met for a few drinks in the bar, which was great.
As I headed off to work the next morning the girls and Brian made use of the hotel pool and then headed off to do a bit of shopping and site seeing and a trip on a tram etc.
All in all a great weekend, although I had an amazing headache, I assume, due to all the information I took in!
More to come soon……